Want to Ask a Question - Read this First!
Over the last few years we have answered countless questions about Anchor Hocking glassware. Most of the questions we received were already answered on the website, or the information was contained in most depression glass references, or the answers could easily be found on the internet. All too often, the information was obtained only to be used to sell items on eBay or at antique shops. The museum was not established as an information repository for this purpose. We have also been contacted and asked to identify glassware. It is often too hard to indentify glass from pictures without actually handling the piece to look for imperfections and subtleties, so we will ONLY identify glass actually brought to the museum. .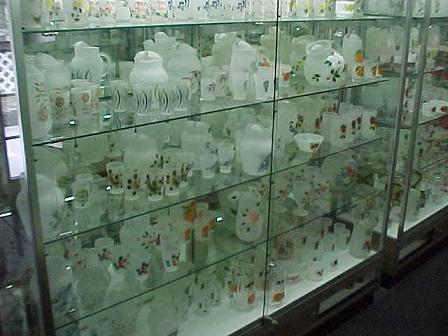 A portion of the Frosted Pitcher and Glasses section.
© COPYRIGHT 2017 ALL RIGHTS RESERVED